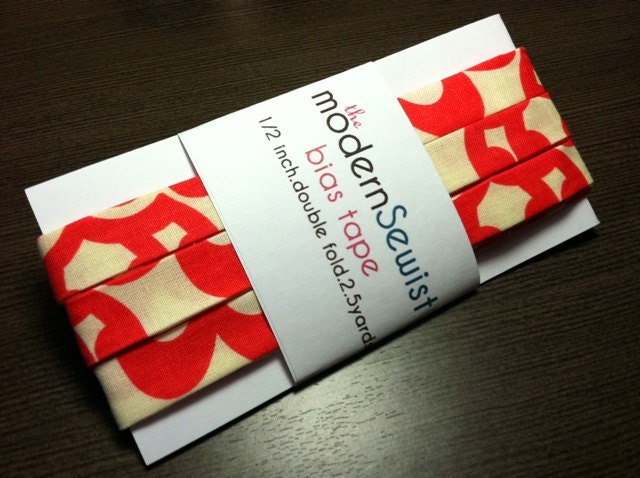 From TheModernSewist shop on Etsy
So if you have been following this blog recently you know that I love bias tape. And I love even better making and using my own out of good fabric. When I first read that store-bought bias tape is not as nice, I thought, "Really? How much difference can it make?" Turns out, a lot. Store-bought bias tape is much stiffer than bias tape because the fabric used is not - ahem - good quality. This makes the tape less flexible. It doesn't feel nearly as nice to the touch, and the selection is, well, dull. Don't get me wrong - I still use it sometimes if I want something simple where flexibility doesn't matter (like a bag) - but it ain't nothing like the real thing.
Making bias tape at home is really pretty easy as long as you have the right tools. I use a tutorial that I found at
Coletterie.com
(makers of those cool vintage-inspired patterns - and they have a new
book
that I'm dying to own). You can find the tutorial
here
. I like making bias tape when I have an odd amount of fabric left, like 1/4 - 1/3 yard of something that I don't really want to use for a clutch for whatever reason.
From Coletterie.com
Bias tape on a hem or pocket or sleeve is a great way to add contrast to the garment. If you have a solid color main fabric, you can use a print bias tape to add some pop. Or you can use the bias tape to give a shock of color - light blue with red, purple with grey, lime green with black & white. You can also play around with mixing textures. You might use silky charmeuse bias tape on a cotton or denim garment to prettify the look, faux suede or leather bias tape to give a piece some edge.
Two new ways I plan to use bias tape:
1) Cover piping. I love piping and I have a great dress I'm dying to make. I'm going to cover the piping with bias tape that I've made to give it a really unique look.
2) Upholstery clutch wallet. I'm going to try a variation of my clutch wallet in the next few days that will have bias tape on the edges. This will make it easier to sew through the layers of upholstery fabric and it will give me new opportunities to play around with color/texture contrasts.
I'm also always on the look out for inspiration. Here are some other ways I've seen folks using bias tape.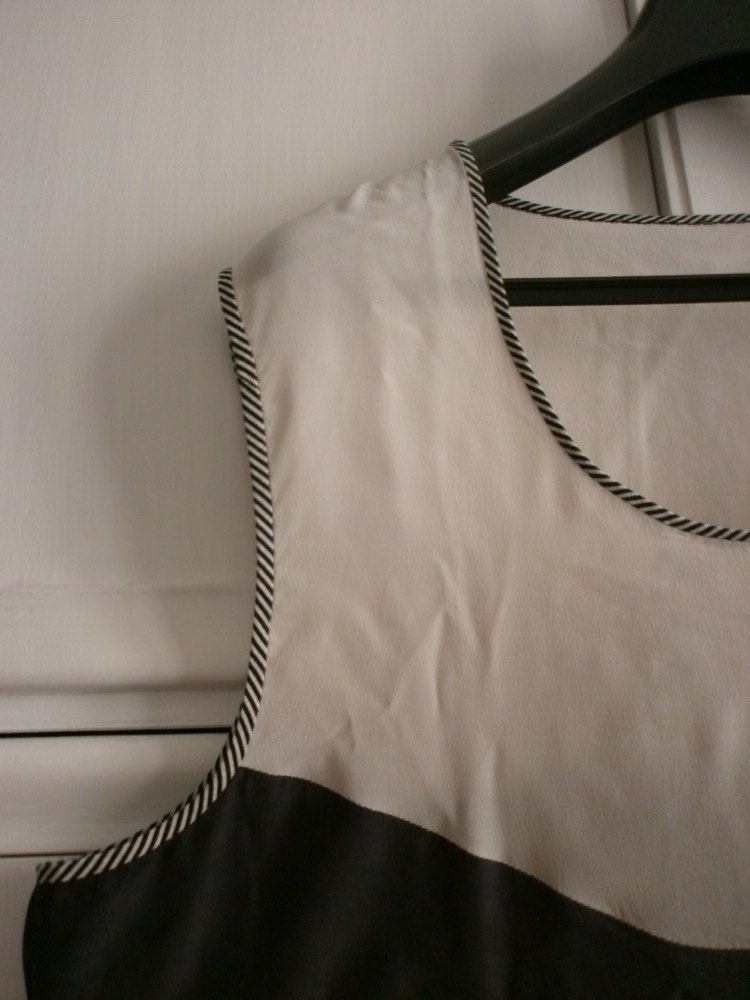 From the shop Guilia on Etsy
From ShopWishfulThinking on Etsy